Shows and Events with the Tin Pan Annie Family Band!
Our Tin Pan Annie Family Band shows are the coolest gigs in town for all the family, from ages 0-100! Come and boogie, bounce, clap and sing-along to all the best family favourite songs like Old Macdonald and The Wheels on the Bus performed 100% live with real instruments by The Tin Pan Annie Band with lots of their special friends!
You might meet dancing monkeys, dragons, pigs and the Tin Pan Annie Bus, performed by our fantastic expanded cast of bright and bubbly helpers!
Although are shows are aimed at the the under-fives, older siblings, parents and grandparents can't help but have a great time too! With a usual run time of 40 minutes, it's the right length for everyone, so bring your little ones, bigger ones, grandparents, godparents, friends and we would love to see  you all in your best dressing-up!
Our shows are always huge fundraisers for special children's charities that we love. This year all profits will go to the amazing Honeypot Children's Charity who provide respite breaks and ongoing support for young carers aged 5-12 years old.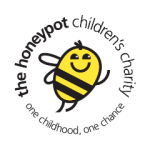 Tin Pan Annie Family Band Christmas Shows!
It's not Christmas until it's the Tin Pan Annie Christmas show!
Our Family Christmas shows have become legendary around South London's 'Nappy Valley' – and we've been doing them for ten years! Come and hear your favourite family Christmas tunes and meet lots of special friends like dancing snowflakes, smiley snowmen, reindeer and our very own giant dancing, singing Christmas Tree!
Our 2019 shows raised £2700 for the Honeypot Children's Charity!
THANK YOU!
Our 2018 Family Christmas Show (full length)
Our 2020 Family Christmas live stream!
(even the pandemic didn't stop us!)